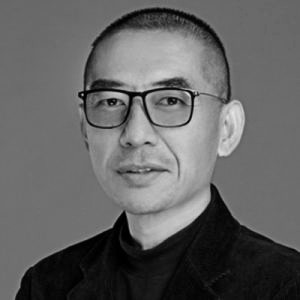 Zhang Li (a.k.a. Li Brian Zhang / Brian  Chang) [1970-] (D. Eng., M. Arch.) is the Dean of School of Architecture of Tsinghua University/ a Professor of Architecture. He leads the design practice Atelier  TeamMinus in Beijing. He is currently a board member of the  Architectural Society of China and the Editor-in-Chief of the leading  Chinese magazine World Architecture.
Zhang Li's research focuses on  pre-industrial oriental philosophy and its contemporary  reinterpretation. Besides his teaching in China, he has been the  Professor of Practice (2012) in Syracuse University and the Visiting  Critic (2010) in National University of Singapore. He has also taught  joint-studio projects in a number of institutions, inclduing: GSD,  Harvard; Barcelona School of Architecture, UPC; Berlage Institute;  Polytechnic University of Turin.
In recent years, Zhang Li and TeamMinus  have completed a variety of buildings and urban renewal projects in  China, and have been published internationally. Some of the buildings  and projects are: Janamani Visitor Centre (2013), Ningbo Hefeng  Industrial Design Complex (2012), Provincial Pavilion and Roof Park of  China Pavilion in Shanghai Expo (2010), National Flower Show and  Logistics Complex (2009), Jinchang Culture Centre (2007) .
Zhang Li and his team have won multiple  awards, including: AR+D Highly Commended (2013), National Grand Award  for Architecture (2009), ASC Gold Award for Design Excellence (2014,  2008), ASC Award for Emerging Architects (2008), etc.
Zhang Li has been a keynote speaker or  guest panelist at different international events, including: ArchiLab  2002 (Orleans, France);  Sensual City 2009 (Paris, France); Datum KL  2011 (Kuala Lumpur, Malaysia); ISAIA 2012 (Gwangju, Korea). He moderated  the Tsinghua Session in the 2012 Pritzker Beijing Architecture Forum.
Zhang Li got all his degrees from School  of Architecture, Tsinghua University and has been a Tsao Fellow in the  Graduate School of Design, Harvard University.